DUE TO THE COVID PANDEMIC FAMILY LEARNING IS CURRENTLY ONLY RUNNING ONLINE
We hope to return to courses in school as soon as possible
Family Learning 
Befuddled by phonics? In a muddle with maths?
Learning with your child in school is a unique and special experience. Our Family Learning courses will enable you to spend one to one time with your child in a fun and relaxed setting in order to support them with school work at home. Aunties, Uncles, Grandparents and other Carers are also welcome to attend.
We can also offer 'parent only' learning with a focus on developing your own skills too.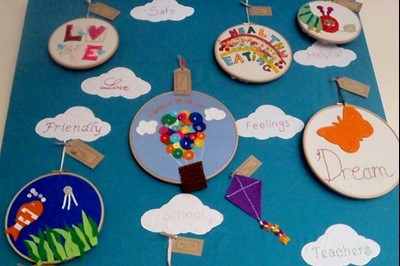 The courses include:
Crafts e.g. jewellery making, cake decorating, sewing, painting
Wellbeing courses
Parenting courses e.g. understanding your child's behaviour
Keeping up with your children eg phonics, using computers
Adult Maths skills
Adult English skills
New to learning or speaking English
Many of our Adult Learners have gained nationally recognised qualifications from the courses they have completed with us, these have included Business and Enterprise Level 1 and Understanding Children's Social and Emotional Behaviour levels 1 and 2.
All of our Family Learning courses are completely FREE and the crafts you make on the course are yours to take home also. 
Family Learning is so important to our school that we have a purpose built, dedicated room for it. We call this area of school 'The Hub' and is at the upper end of school. We also have a separate room for our free crèche facility. 
Enrolment forms are sent out a few weeks before a course begins or details of upcoming courses are displayed on our web page, so please check here regularly.
Alternatively, Mrs Butler and Mrs Campbell are available most mornings at our daily 'meet and greet' to talk with you also. We love getting to know to our parents and working with them, so please feel free to come talk to us about any courses you would like to attend or any help or support you may need.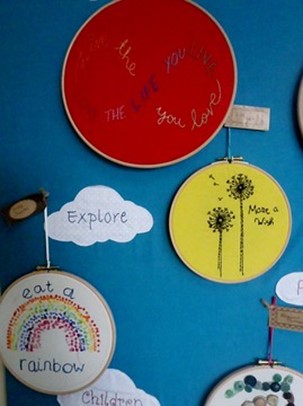 Amazing Creations from Family Learning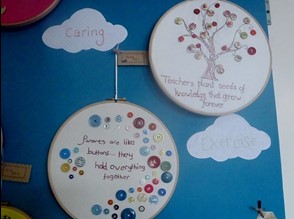 During a sewing course, each parent designed and created an embroidery hoop, which was then used to make a group piece of art. The phrases on the hoops were chosen to promote positive messages to everyone in our school community and the words in the clouds were taken from responses our school questionnaire. Our parents worked hard on their display and showed some amazing creativity and talent!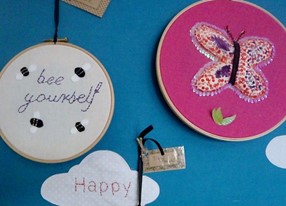 We'd like to say a big thank you to all the parents and Sophie our tutor from Family Learning, who helped create it! The artwork has been displayed in the the school main entrance for all to see.